Mindful Vibrational Movement
PLATEFIT, the first Wellness Fitness Brand. We cultivate transformation and whole body wellness through the science of vibration. Signature 27 minute PLATEFIT classes heal and recover muscles, strengthen and
elongate the body, detoxify the system, and help you vibrate higher. Vibration training is more than physical fitness, it's a way to better health: stronger bodies, stronger bones, brighter more glowing skin, and better sleep. We utilize the science of vibration to wake up your cells, increase circulation, drain & detoxify the lymphatic system, reduce inflammation, and accelerate recovery time. The body's response to vibration increases serotonin & HGH and reduces cortisol leaving you feeling high and living more vibrantly.
Learn More
I love this workout studio! I've tried almost every class offered and they've all been great. It's a quick workout but it's so challenging… I get a good workout and a good sweat from the classes and there's a nice recovery class as well. The teachers are all great and encouraging and the front desk staff is really friendly and welcoming.

/ Samantha W

What a great workout! Everyone was so so nice! I was so impressed with the studio. Very clean and trendy looking. The staff was very knowledgeable. Can't wait for my next workout with Platefit!

/ Cherie A

It is fast paced and only 27 minutes – the movements are constantly changing so you really don't have any time to get bored with this workout! These classes incorporates bands and weights. Definitely planning on taking more classes! An overall super fun workout!

/ Aly H

I couldn't be happier that PlateFit has opened! It's a kick-butt class that gets my blood pumping before my day at work starts! They have great staff, great music and the workout is killer. 6 out of 5 stars I love it.

/ Kathyrn H

Love love love PLATEFIT! This is hands down my favorite workout in LA. It's fast, challenging, and the instructors don't waste a second… you are moving the entire 27 minutes.

/ Jennifer P
What is a Power Plate?
THE SCIENCE.
Power Plate is a medical grade device that contracts the muscles 30-50 times per second engaging multiple muscle groups at once for results in half the time.
Learn more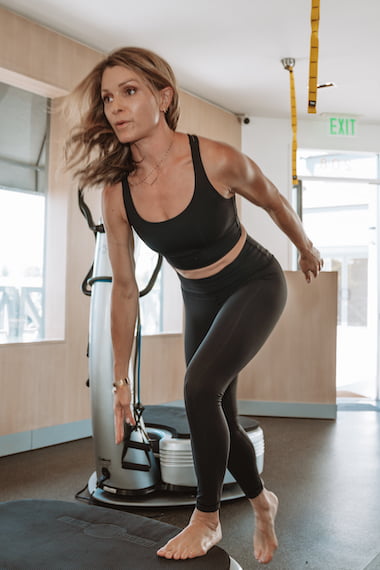 Owner
Rachael Blumberg
After ten years of training clients in her private Power Plate studio in West Hollywood, Rachael Blumberg opened PLATEFIT, revolutionary fitness studios filled with a strong community of men and women who have changed their lives and their health through the science of VIBRATION Training.
This is what transformation looks like.
Our story
PLATEFIT Community
Social
#THISISWHEREIFIT
Get to know your PLATEFIT team, make new friends,and get more out of your PLATEFIT experience. It's not just a workout – It's A Vibe.
Learn More